Hello, and thanks
for visiting our Web site!
Our names are Richard & Cheryl Sittinger and if you love minerals and learning about them, we'd like to invite you to join our Mineral of the Month Club! We have two levels of membership (Junior and Deluxe) to suit your level of interest.
Each month we send our Club members a wonderful mineral specimen, properly labeled with name and locality information, and a fascinating three to eight page write-up that explains everything you want to know about its unique properties!
We have two levels of membership available– with the only difference being the size of the specimens.
Click hereto see how the Club works.
Click our "Join the Club" link at the top of this page for Personal or Gift Memberships to the club.
(Our privacy policy: We will never under any circumstances give or sell Club member's addresses and other personal information to anyone! We loathe this practice and will never engage in it!)
Note to Club members wanting to renew: Order the type of membership you are renewing and tell us in the notes section of the checkout process that you are a renewing member.
Email us with any questions or call us toll free at 1-800-941-5594!
Remember, you'll receive only the minerals you wish– you can pass on any mineral at any time. Our goal is to provide you with wonderful specimens and highly informative, detailed write-ups that will increase your love and appreciation for our natural world!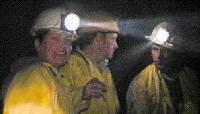 Cheryl & Richard chat with mine geologist Dean Misantori during our tour of the Sweet Home Mine, Alma, Colorado, September '97, when we featured their rhodochrosite in our Mineral of the Month Club
FEBRUARY 2003 MINERAL: Colemanite from the Boron Open Pit, Kern County, California (ABOVE)
February will be an outstanding month, as we feature excellent specimens of the rare borate Colemanite [Ca2B6O11•5H2O] from Boron, Kern County, California. Don't miss out on this one!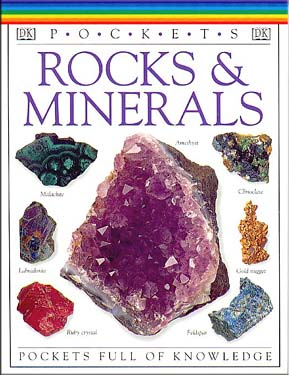 Free Pocketsize DK Rocks & Minerals Book for each new member! ($7 value)